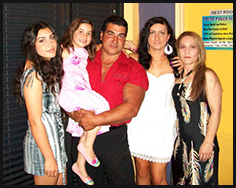 Hi, my name is Theo.
I was born in Greece in a small town of ancient Olympia, the birth place of the Olympic Games. I now live in South Australia. I spent 6 years in the Greek Army as a dog trainer. Training dogs for protection and security amongst various other reasons.
Ever since I was a child I have always had a love for animals, particularly a passion for dogs. From a young age I started breeding dogs in Greece. I tried many different breeds however I have always felt there was something missing, that is, until I came across the American Staffordshire. I found this breed to have the best of temperament, colours, look, strength and markings.
As a result, I bought two beautiful females 'Layka' and 'Kalony'. They produced pups which grew in to dogs I could only ever dream about. Now I own many beautiful American Staffordshire Terriers. The kennels are situated in Adelaide, South Australia on a 10 acre farm with all the facilities the dogs need to enjoy themselves.